An untapped resource? Opportunities for faculty-librarian collaboration to enhance drug information resource utilization in pharmacy education
Keywords:
pharmacy education, student pharmacists, drug information, information literacy, instruction, interprofessional collaboration, health sciences librarians
Abstract
Background: Doctor of pharmacy educational accreditation standards state student pharmacists should be able to evaluate the scientific literature as well as critically analyze and apply information in answering drug information questions. Student pharmacists often struggle with identifying and using appropriate resources to answer medication-related questions. To ensure educational needs were met, a college of pharmacy hired a health sciences librarian to support the faculty and students.
Case Presentation: The health sciences librarian collaborated with faculty and students throughout the doctor of pharmacy curriculum to identify and address any gaps related to appropriate drug resource utilization. Adding instruction time to the new student pharmacist orientation, coursework throughout the first year of the pharmacy program, and a two-semester evidence-based seminar course provided opportunities for the health sciences librarian to work with student pharmacists in the areas of library resource access, instruction on drug information resources, and evaluation of drug information found on the internet.
Conclusion: The deliberate inclusion of a health sciences librarian into the doctor of pharmacy curriculum can benefit faculty and students. Opportunities for collaboration are available throughout the curriculum, such as providing instruction for database utilization and supporting the research activities of both faculty and student pharmacists.
References
Accreditation Council for Pharmacy Education. Accreditation standards and key elements for the professional program in pharmacy leading to the doctor of pharmacy degree (standards 2016). Chicago, IL: 2015. Available from: https://www.acpe-accredit.org/pdf/Standards2016FINAL.pdf.
Martin JA, House DL, Jr., Chandler HR. Teaching of formal courses by medical librarians. J Med Educ. 1975 Sep;50(9):883-6. DOI: https://doi.org/10.1097/00001888-197509000-00006.
Sewell W, Speedie MK, Knapp DA, Cunningham P. Integrating library skills teaching into the pharmacy school curriculum. Am J Pharm Educ. 1980 Feb;44(1):65-70.
Wood EH, Morrison JL, Oppenheimer PR. Drug information skills for pharmacy students: curriculum integration. Bull Med Libr Assoc. 1990 Jan;78(1):8-14. DOI: https://pubmed.ncbi.nlm.nih.gov/2295022/.
Lapidus M. Educating student pharmacists about herbal medicines: faculty-librarian collaboration. Health Info Libr J. 2007 Dec;24(4):267-73. DOI: https://doi.org/10.1111/j.1471-1842.2007.00718.x.
Martin JR. The newly embedded librarian: pharmacy information liaison service. Public Services Q. 2010 Jan;6(2-3):187-97. DOI: https://doi.org/10.1080/15228959.2010.497908.
Chatfield AJ, Romero RM, Haworth IS. Information intervention in the pharmaceutical sciences. Med Ref Serv Q. 2012 May;31(2):188-201. DOI: https://doi.org/10.1080/02763869.2012.670593.
Jones EP, Wisniewski CS. Gamification of a mobile applications lecture in a pharmacy course. Med Ref Serv Q. 2019 Oct-Dec;38(4):339-46. DOI: https://doi.org/10.1080/02763869.2019.1657728.
Brower S. Millennials in action: a student-guided effort in curriculum-integration of library skills. Med Ref Serv Q. 2004 Summer;23(2):81-8. DOI: https://doi.org/10.1300/j115v23n03_09.
Wu L, Thornton J. Experience, challenges, and opportunities of being fully embedded in a user group. Med Ref Serv Q. 2017 Apr-Jun;36(2):138-49. DOI: https://doi.org/10.1080/02763869.2017.1293978.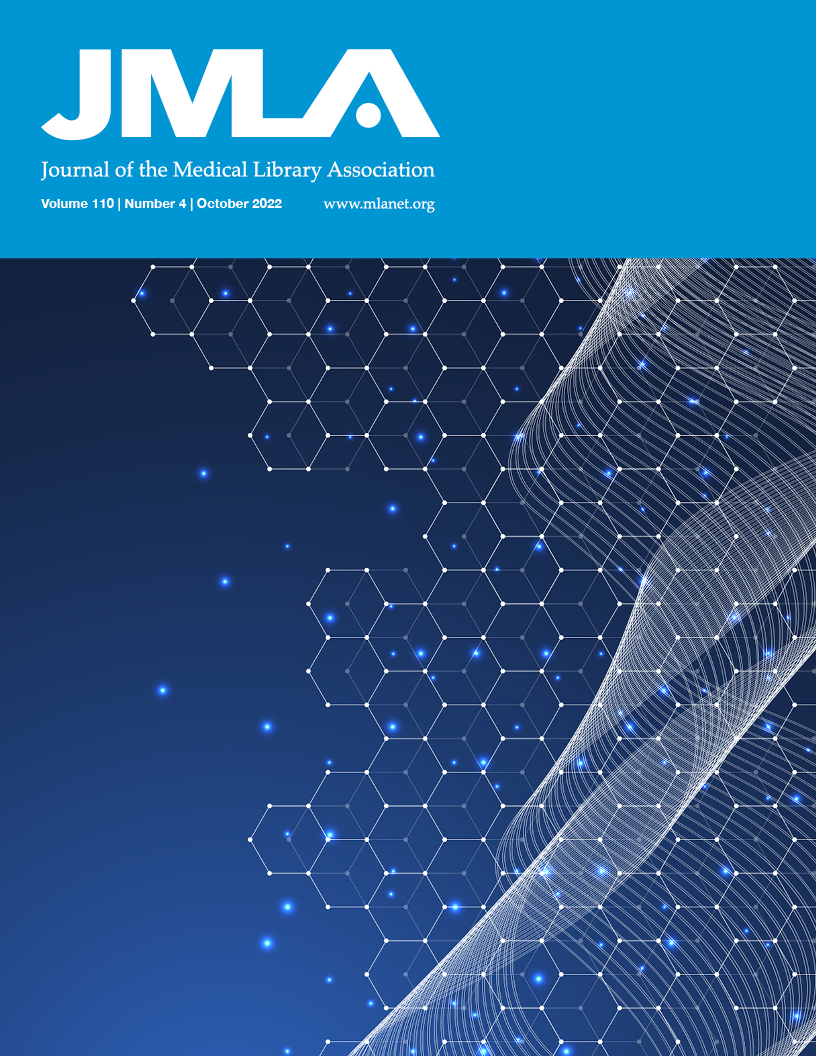 Downloads
License
Copyright (c) 2022 Kayce Gill, Robin Parker
This work is licensed under a Creative Commons Attribution 4.0 International License.