The Medical Institutional Repositories in Libraries (MIRL) Symposium: a blueprint designed in response to a community of practice need
Keywords:
Institutional Repository; Scholarly Communication; Health Sciences Libraries; Medical Institutional Repositories in Libraries Symposium; Collaboration; Community of Practice
Abstract
Background: Health sciences libraries in medical schools, academic health centers, health care networks, and hospitals have established institutional repositories (IRs) to showcase their research achievements, increase visibility, expand the reach of institutional scholarship, and disseminate unique content. Newer roles for IRs include publishing open access journals, tracking researcher productivity, and serving as repositories for data sharing. Many repository managers oversee their IR with limited assistance from others at their institution. Therefore, IR practitioners find it valuable to network and learn from colleagues at other institutions.
Case Presentation: This case report describes the genesis and implementation of a new initiative specifically designed for a health sciences audience: the Medical Institutional Repositories in Libraries (MIRL) Symposium. Six medical librarians from hospitals and academic institutions in the U.S. organized the inaugural symposium held virtually in November 2021. The goal was to fill a perceived gap in conference programming for IR practitioners in health settings. Themes of the 2021 and subsequent 2022 symposium included IR management, increasing readership and engagement, and platform migration. Post-symposium surveys were completed by 73/238 attendees (31%) in 2021 and by 62/180 (34%) in 2022. Feedback was overwhelmingly positive.
Discussion: Participant responses in post-symposium surveys rated MIRL highly. The MIRL planning group intends to continue the symposium and hopes MIRL will steadily evolve, build community among IR practitioners in the health sciences, and expand the conversation around best practices for digital archiving of institutional content. The implementation design of MIRL serves as a blueprint for collaboratively bringing together a professional community of practice.
References
Murphy J. Global trends health science libraries: part 1. Health Info Libr J. 2021 Nov;38(4):319–324. DOI: https://doi.org/10.1111/hir.12408.
Kipnis DG, Palmer LA, Kubilius RK. The institutional repository landscape in medical schools and academic health centers: a 2018 snapshot view and analysis. J Med Libr Assoc. 2019 Oct;107(4):488-498. DOI: https://doi.org/10.5195/jmla.2019.653.
Fay B, Deal J, Budzisz V. An institutional repository experience at a large health care system. Med Ref Serv Q. 2017 Jul;36(3):280-291. DOI: https://doi.org/10.1080/02763869.2017.1332264.
Martin HJ, Schwartz A. Virtual resident showcase: leveraging an institutional repository during COVID-19 social distancing. J Med Libr Assoc. 2020 Oct;108(4):645-646. DOI: https://doi.org/10.5195/jmla.2020.1052.
Demetres MR, Delgado D, Wright DN. The impact of institutional repositories: a systematic review. J Med Libr Assoc. 2020 Apr;108(2):177-184. DOI: https://doi.org/10.5195/jmla.2020.856.
Page MJ, McKenzie JE, Bossuyt PM, Boutron I, Hoffmann TC, Mulrow CD, Shamseer L, Tetzlaff JM, Akl EA, Brennan SE, Chou R, Glanville J, Grimshaw JM, Hróbjartsson A, Lalu MM, Li T, Loder EW, Mayo-Wilson E, McDonald S, McGuinness LA, Stewart LA, Thomas J, Tricco AC, Welch VA, Whiting P, Moher D. The PRISMA 2020 statement: an updated guideline for reporting systematic reviews. PLoS Med. 2021 Mar 29;18(3):e1003583. DOI: https://doi.org/10.1371/journal.pmed.1003583.
McInnes MDF, Moher D, Thombs BD, McGrath TA, Bossuyt PM; and the PRISMA-DTA Group; Clifford T, Cohen JF, Deeks JJ, Gatsonis C, Hooft L, Hunt HA, Hyde CJ, Korevaar DA, Leeflang MMG, Macaskill P, Reitsma JB, Rodin R, Rutjes AWS, Salameh JP, Stevens A, Takwoingi Y, Tonelli M, Weeks L, Whiting P, Willis BH. Preferred reporting items for a systematic review and meta-analysis of diagnostic test accuracy studies: the PRISMA-DTA statement. JAMA. 2018 Jan 23;319(4):388-396. DOI: https://doi.org/10.1001/jama.2017.19163.
Kleymeer P, Kleinman M, Hanss T. Reaching the heart of the university: libraries and the future of OER. Open Education 2010 Conference Proceedings. 2010 Nov 2:241-50. https://hdl.handle.net/2027.42/78006.
Advances in Clinical Medical Research & Healthcare Delivery [Internet]. 2021 [cited 22 Feb 2023]. https://scholar.rochesterregional.org/.
Journal of Maine Medical Center [Internet]. 2019 [cited 22 Feb 2023]. https://knowledgeconnection.mainehealth.org/jmmc/.
Bjork K, Cummings-Sauls R, Otto R. Opening up open access institutional repositories to demonstrate value: two universities' pilots on including metadata-only records. J Libr Sch Commun. 2019 Mar 8;7(1). DOI: https://doi.org/10.7710/2162-3309.2220.
National Institutes of Health. Supplemental information to the NIH policy for data management and sharing: selecting a repository for data resulting from NIH-sponsored research. NOT-OD-21-016. 2020 Oct 29. https://grants.nih.gov/grants/guide/notice-files/NOT-OD-21-016.html.
Luther J. The evolving institutional repository landscape. ACRL/Choice, publisher. 2018. https://digitalcommons.unl.edu/scholcom/70/.
Bornmann L, Haunschild R, Mutz R. Growth rates of modern science: a latent piecewise growth curve approach to model publication numbers from established and new literature databases. Humanit Soc Sci Commun. 2021 Oct;8:224. DOI: https://doi.org/10.1057/s41599-021-00903-w.
Open Repositories Conference [Internet]. 2006 [cited 24 Feb 2023]. https://www.openrepositories.org/.
Southern Miss Institutional Repository Conference (SMIRC). [Internet]. 2017 [cited 24 Feb 2023]. https://aquila.usm.edu/smirc/.
Digital Initiatives Symposium. [Internet]. 2014 [cited 23 Feb 2023]. https://digital.sandiego.edu/symposium/.
Northeast Institutional Repository Day (NIRD) [Internet]. 2019 [cited 22 Feb 2023]. https://repository.escholarship.umassmed.edu/handle/20.500.14038/51366.
Digital Commons North American Conference [Internet]. 2021 [cited 24 Feb 2023]. https://dc.researchcommons.org/dcnoamconf/.
Castro E, Jerome E, Lukens C, Macdonald MS, Palmer LA. NIRDs unite: building a community of institutional repository practitioners in the Northeast. Against the Grain (Charlest). 2019 Nov;31(5):34-36. DOI: https://doi.org/10.7771/2380-176X.8425.
Medical Institutional Repositories in Libraries (MIRL) Symposium [Internet]. 2021 [cited 24 Feb 2023]. https://hsrc.himmelfarb.gwu.edu/mirl/.
Wistia [Internet]. 2021 [cited 24 Feb 2023]. https://wistia.com/.
MIRL Symposium [Internet]. YouTube [cited 03 Mar 2023]. https://www.youtube.com/@MIRLSymposium.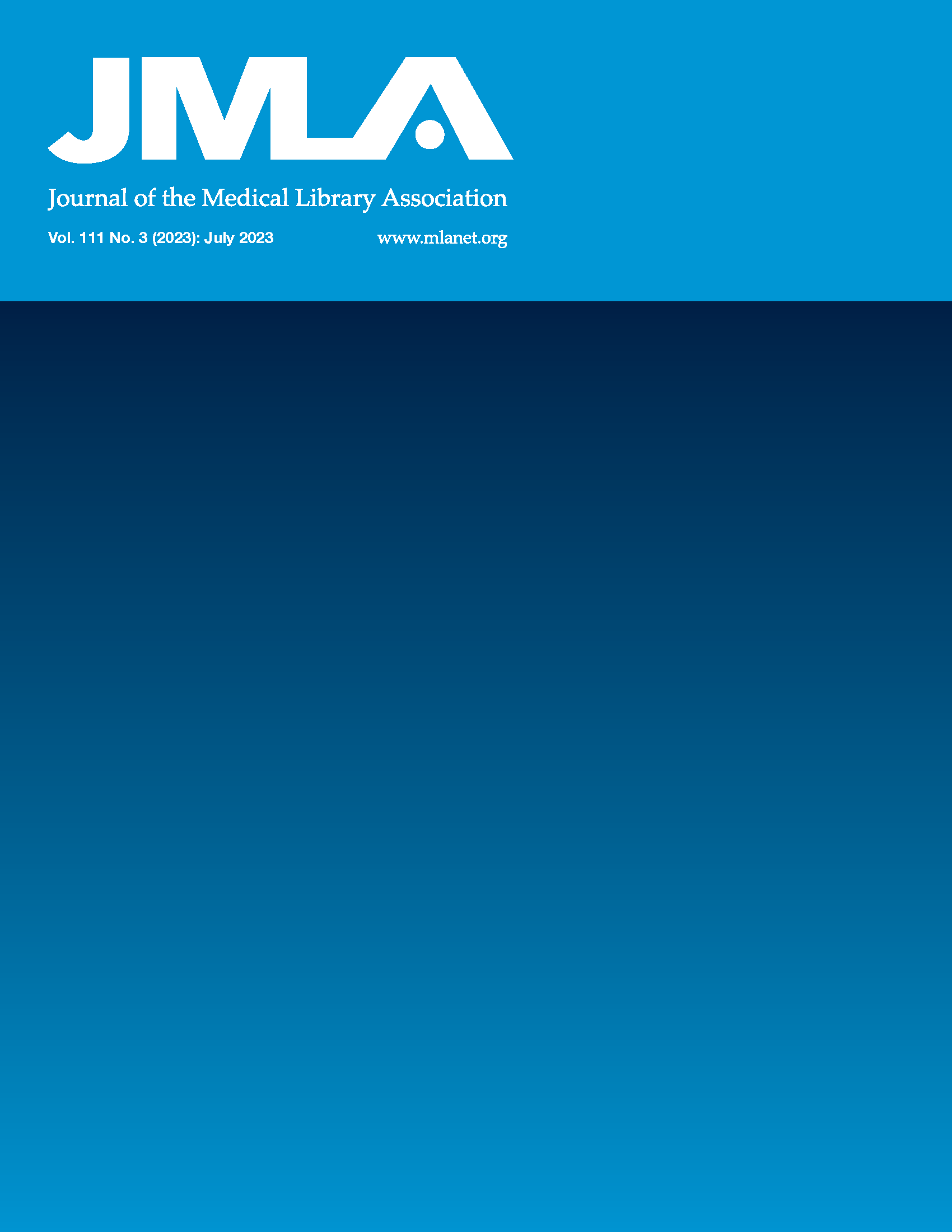 Downloads
License
Copyright (c) 2023 Brenda Fay, Lisa M. Buda, Anthony J. Dellureficio, Sara Hoover, Ramune K. Kubilius, Steven J. Moore, Lisa A. Palmer
This work is licensed under a Creative Commons Attribution 4.0 International License.