LGBTQ+ health research guides: a multi-institutional analysis of usage patterns and user information needs
Keywords:
LGBTQ , health information, research guides, health disparities, health sciences libraries, consumer health, outreach, libguides
Abstract
Objective: LGBTQ+ health research guides can strengthen the LGBTQ+ community through connecting people to quality health services and information, and previous studies have recommended that health sciences libraries create and maintain these guides. Little evidence exists, though, on how these guides are used and how well they meet the needs of LGBTQ+ users. Using retrospective data retrieved from multiple LGBTQ+ health research guides, we examined the categories of LGBTQ+ health information most used, as well as how often guides were accessed. Based on these results, we hope to find patterns which can lead to best practices for libraries.
Methods: Five North American academic health sciences libraries contributed select usage data from their LGBTQ+ health research guides, covering a three-year period (July 2018-June 2021). Data was analyzed in two ways. Firstly, the 20 most-clicked resources from each guide were categorized through open coding, to assess if certain information resource categories were more popular among guide users, allowing for inference of user needs. A time-series analysis was also conducted for two sites, using the Classical Seasonal Decomposition by Moving Averages method, to provide deeper insights into the data.
Results: Open coding data showed consumer health information resources were used more often than other health resource categories. Resources from more locally based organizations and those with provider and services information were heavily used, indicating that users may be looking for information connecting to local health services and providers. The time series analysis allowed the potential positive effect of guide promotion to be showcased in ways that would not have been clear from the raw data.
Conclusion: This study shows that people are accessing LGBTQ+ consumer health information through academic library research guides, with a preference for local information. Guide usage appears to be positively driven by outreach within one's institution and to the greater community. Locating external partners may increase guide impact and provide important links to local resources and services.
References
Berliant M, Odorizzi S, Leppard J. Out of the closet and into the waiting room: improving care of 2SLGBTQIA+ patients in the emergency department. Can J Emerg Med. 2021 Nov;23(6):733–6.
Kelly‐Brown J, Palmer Kelly E, Obeng‐Gyasi S, Chen J, Pawlik TM. Intersectionality in cancer care: A systematic review of current research and future directions. Psycho-Oncology. 2022 May;31(5):705–16.
Snyder M. Health Care Experiences of Lesbian Women: A Metasynthesis. Advances in Nursing Science. 2019 Jan;42(1):E1–21.
Green KE, Feinstein BA. Substance use in lesbian, gay, and bisexual populations: an update on empirical research and implications for treatment. Psychol Addict Behav. 2012 Jun;26(2):265–78.
King M, Semlyen J, Tai SS, Killaspy H, Osborn D, Popelyuk D, Nazareth I. A systematic review of mental disorder, suicide, and deliberate self harm in lesbian, gay and bisexual people. BMC Psychiatry. 2008 Aug 18;8:70.
McCabe SE, West BT, Hughes TL, Boyd CJ. Sexual orientation and substance abuse treatment utilization in the United States: results from a national survey. J Subst Abuse Treat. 2013 Jan;44(1):4–12.
Eliason MJ, Sanchez-Vaznaugh EV, Stupplebeen D. Relationships between Sexual Orientation, Weight, and Health in a Population-Based Sample of California Women. Women's Health Issues. 2017 Sep 1;27(5):600–6.
Pharr JR, Kachen A, Cross C. Health disparities among sexual gender minority women in the United States: A population-based study. J Community Health. 2019 Aug;44(4):721–8.
Ramchandani MS, Golden MR. Confronting Rising STIs in the Era of PrEP and Treatment as Prevention. Curr HIV/AIDS Rep. 2019 Jun;16(3):244–56.
Scheim AI, Baker KE, Restar AJ, Sell RL. Health and Health Care Among Transgender Adults in the United States. Annu Rev Public Health. 2022 Apr 5;43(1):503–23.
Tami A, Ferguson T, Bauer GR, Scheim AI. Avoidance of primary healthcare among transgender and non-binary people in Canada during the COVID-19 pandemic. Preventive Medicine Reports. 2022 Jun;27:101789.
Augustaitis L, Merrill LA, Gamarel KE, Haimson OL. Online transgender health information seeking: Facilitators, barriers, and future directions. In: Proceedings of the 2021 CHI Conference on Human Factors in Computing Systems [Internet]. Yokohama Japan: ACM; 2021 [cited 2023 Mar 9]. p. 1–14. Available from: https://dl.acm.org/doi/10.1145/3411764.3445091.
GLAAD. Open Letter to Facebook [Internet]. GLAAD. 2019 [cited 2023 Mar 8]. Available from: https://www.glaad.org/blog/open-letter-facebook
Lapinski J, Diaz KM. Single Accreditation System for Graduate Medical Education: An Opportunity for Lesbian, Gay, Bisexual, and Transgender Health Education Integration in Osteopathic Medicine. 2016;116(2):3.
Ploumen R, Livas C. Students' awareness of LGBT resources in Dutch dental schools. J Dent Educ. 2020;84(8):881–6.
Tartavoulle T, Landry J. Educating Nursing Students About Delivering Culturally Sensitive Care to Lesbian, Gay, Bisexual, Transgender, Questioning/Queer, Intersex, Plus Patients: The Impact of an Advocacy Program on Knowledge and Attitudes. Nurs Educ Perspect. 2021 Aug;42(4):E15.
Zumwalt AC, Carter EE, Gell-Levey IM, Mulkey N, Streed CG, Siegel J. A Novel Curriculum Assessment Tool, Based on AAMC Competencies, to Improve Medical Education About Sexual and Gender Minority Populations. Academic Medicine. 2022 Apr;97(4):524–8.
Waryold JM, Kornahrens A. Decreasing barriers to sexual health in the lesbian, gay, bisexual, transgender, and queer community. Nurs Clin North Am. 2020 Sep;55(3):393–402.
Fikar CR, Keith L. Information needs of gay, lesbian, bisexual, and transgendered health care professionals: results of an Internet survey. J Med Libr Assoc. 2004 Jan;92(1):56–65.
Morris M, Roberto KR. Information-seeking behaviour and information needs of LGBTQ health professionals: a follow-up study. Health Info Libr J. 2016 Sep;33(3):204–21.
McLeod DW, Miller AV. Medical, social & political aspects of the acquired immune deficiency syndrome (AIDS) crisis: a bibliography [Internet]. Canadian Gay Archives; 1985 [cited 2023 May 26]. Available from: https://tspace.library.utoronto.ca/handle/1807/17361.
Malinowsky HR, Perry GJ. AIDS information sourcebook. Phoenix: Oryx Press; 1991.
Huber JT. How to find information about AIDS. 2nd ed. New York: Haworth Press; 1992.
Perry GJ. The activist health sciences librarian. jmla [Internet]. 2020 Jan 2 [cited 2023 Feb 9];108(1). Available from: http://jmla.pitt.edu/ojs/jmla/article/view/859.
Comulada WS, Step M, Fletcher JB, Tanner AE, Dowshen NL, Arayasirikul S, Keglovitz Baker K, Zuniga J, Swendeman D, Medich M, Kao UH, Northrup A, Nieto O, Brooks RA, Special Projects Of National Significance Social Media Initiative Study Group. Predictors of Internet Health Information–Seeking Behaviors Among Young Adults Living With HIV Across the United States: Longitudinal Observational Study. J Med Internet Res. 2020 Nov 2;22(11):e18309.
Rose ID, Friedman DB. We need health information too: A systematic review of studies examining the health information seeking and communication practices of sexual minority youth. Health Educ J. 2013 Jul;72(4):417–30.
Walsh JL, Zarwell M, John SA, Quinn KG. Sources of Information about Pre-Exposure Prophylaxis (PrEP) and Associations with PrEP Stigma, Intentions, Provider Discussions, and Use in the United States. J Sex Res. 2022 Aug 29;1–13.
Pho AT, Bakken S, Lunn MR, Lubensky ME, Flentje A, Dastur Z, Obedin-Maliver J. Online health information seeking, health literacy, and human papillomavirus vaccination among transgender and gender-diverse people. J Am Med Inform Assoc. 2022 Jan 12;29(2):285–95.
Tenney C, Surkan KJ, Hammond Gerido L, Betts-Green D. Crisis of Erasure: Transgender and Gender-Nonconforming Populations Navigating Breast Cancer Health Information. IJIDI. 2021 Dec 21;5(4):132–49.
Drake AA, Bielefield A. Equitable access: Information seeking behavior, information needs, and necessary library accommodations for transgender patrons. Library & Information Science Research. 2017 Jul;39(3):160–8.
Hawkins BW, Morris M, Nguyen T, Siegel J, Vardell E. Advancing the conversation: next steps for lesbian, gay, bisexual, trans, and queer (LGBTQ) health sciences librarianship. J Med Libr Assoc. 2017 Oct;105(4):316–27.
Morris M, Hawkins B. Towards a new specialization in health librarianship: LGBTQ health. J Can Health Libr Assoc. 2016 Apr 1;37(1):20–3.
Stevens GA, Morris M, Nguyen T, Vardell E. Health sciences librarians in the field: Advocating and campaigning for LGBTQ+ health. In: Mehra B, editor. LGBTQ+ Librarianship in the 21st Century: Emerging Directions of Advocacy and Community Engagement in Diverse Information Environments [Internet]. Bingley, United Kingdom: Emerald Group Publishing; 2019. p. 65–87. (Advances in Librarianship; vol. 45). Available from: https://doi.org/10.1108/S0065-283020190000045015.
Stevens GA, Fajardo FJ. LGBTQ+ health research guides at North American health sciences libraries: a survey and content analysis. jmla. 2021 Oct 5;109(3):406–13.
Ouellette D. Subject Guides in Academic Libraries: A User-Centred Study of Uses and Perceptions. Canadian Journal of Information and Library Science. 2011;35(4):436–51.
Kouame G, Hendren S. Library tools at the nurses' station: exploring information-seeking behaviors and needs of nurses in a war veterans nursing home. J Med Libr Assoc. 2022 Apr 26;110(2):159–65.
Emmel N. Purposeful Sampling. In: Sampling and Choosing Cases in Qualitative Research: A Realist Approach [Internet]. 1 Oliver's Yard, 55 City Road, London EC1Y 1SP United Kingdom: SAGE Publications Ltd; 2013 [cited 2023 May 22]. Available from: https://methods.sagepub.com/book/sampling-and-choosing-cases-in-qualitative-research.
Robson C. Real world research: a resource for social scientists and practitioner-researchers. 2nd ed. Oxford, UK: Blackwell Publishers; 2002. 599 p.
Clairoux N, Morris M, Brown HL. Academic Dental Librarianship in Canada: Taking Stock, Planning the Future. J Can Health Libr Assoc. 2017 Dec 1;38(3):102–17.
R Foundation. R: The R Project for Statistical Computing [Internet]. [cited 2022 Nov 9]. Available from: https://www.r-project.org/.
RStudio Team. RStudio: Integrated Development for R [Internet]. Boston, MA: RStudio, Inc.; 2018. Available from: http://www.rstudio.com/.
Krispin R. TSstudio: Functions for Time Series Analysis and Forecasting [Internet]. 2020 [cited 2022 Nov 9]. Available from: https://CRAN.R-project.org/package=TSstudio.
Krispin R. Decomposition of Time Series [Internet]. 2020 [cited 2022 Nov 9]. Available from: https://ramikrispin.github.io/halloween-time-series-workshop/ts-decomposition.html.
Shumway RH, Stoffer DS. Time Series Analysis and Its Applications: With R Examples. 4th ed. Cham: Springer International Publishing; 2017. 1 p. (Springer Texts in Statistics).
Fajardo F. Transgender Resources [Internet]. 2022 [cited 2022 Dec 2]. Available from: https://libguides.medlib.fiu.edu/c.php?g=337583&p=2273717.
Holder CL, Perez-Gilbe HR, Fajardo FJ, Garcia S, Cyrus E. Disparities of HIV risk and PrEP use among transgender women of color in South Florida. J Natl Med Assoc. 2019 Dec;111(6):625–32.
McLean K, Parker R. 2SLGBTQIA+ Health: About [Internet]. 2022 [cited 2022 Dec 2]. Available from: https://library.nshealth.ca/LGBTQ/About.
Hawkins B, Dyck DR, Morris M, Nguyen T, Siegel J, Vardell E. Creating a Needed Dialogue: A Discussion about Lesbian, Gay, Bisexual, Transgender, Questioning (LGBTQ) Health Librarianship in 2016. Mosaic '16: Joint Meeting of the Medical Library Association (MLA), the Canadian Health Libraries Association / Association des bibliothèques de la santé du Canada (CHLA/ABSC), and the International Clinical Librarian Conference (ICLC); 2016 May 16; Toronto, ON.
Parker R, McLean K, Sternberg S. Partnerships for Better Health Information: The LGBTQ+ Health Guide from Dalhousie Libraries, Nova Scotia Health Authority Library Services, and Halifax Public Libraries. APLA Bulletin [Internet]. 2017 Nov 3;81(2). Available from: https://ojs.acadiau.ca/index.php/aplabulletin/article/view/1814.
Nova Scotia Health Authority. prideHealth [Internet]. 2022 [cited 2022 Dec 2]. Available from: https://www.nshealth.ca/content/pridehealth.
McLean K. Navigating Trans and Gender-diverse Health Care: Home [Internet]. 2022 [cited 2022 Dec 2]. Available from: https://library.nshealth.ca/TransGenderDiverse/Home.
Saragossi J. LGBTQ+ Health [Internet]. 2022 [cited 2022 Dec 2]. Available from: https://guides.library.stonybrook.edu/c.php?g=827067&p=5904865.
Stony Brook Medicine. LGBTQ* Care at Stony Brook Medicine [Internet]. 2022 [cited 2022 Dec 2]. Available from: https://www.stonybrookmedicine.edu/LGBTQ.
Saragossi J. Health Disparities and Equity in Health Care [Internet]. 2022 [cited 2022 Dec 2]. Available from: https://guides.library.stonybrook.edu/c.php?g=1096086&p=7993427.
Fitterling L. LGBTQIA+ Health Resources [Internet]. 2022 [cited 2022 Dec 2]. Available from: https://kansascity.libguides.com/c.php?g=790749&p=5657902.
Fitterling L. Personal Communication. 2022.
Brody E. LGBTQIA+ Health [Internet]. 2022 [cited 2022 Dec 2]. Available from: https://guides.library.vcu.edu/c.php?g=960434&p=6934606.
Ladd D. Lesbian, Gay, Bisexual, Transgender, and Intersex Health: LGBTQIA+ Healthcare and Social Support [Internet]. 2022 [cited 2022 Dec 2]. Available from: https://guides.library.vcu.edu/c.php?g=935962&p=6745970.
VCU Libraries. VCU Libraries launches guides for LGBTQIA+ Health [Internet]. 2019 [cited 2022 Sep 12]. Available from: https://blogs.vcu.edu/librarystories/2019/10/17/vcu-libraries-launches-guides-for-lgbtqia-health/.
National Library of Medicine. Making Exhibition Connections: Florida International University Herbert Wertheim College of Medicine [Internet]. Circulating Now from NLM. 2020 [cited 2022 Sep 28]. Available from: https://circulatingnow.nlm.nih.gov/2020/03/03/making-exhibition-connections-florida-international-university-herbert-wertheim-college-of-medicine/.
Duhon L, Jameson J. Health information outreach: a survey of U.S. academic libraries, highlighting a midwestern university's experience. Health Info Libr J. 2013 Jun;30(2):121–37.
Kirkpatrick N, Dixson MA. An Academic Library Utilization of Research Guides to Disseminate Consumer Health Resources. J Consum Health Internet. 2020 Oct 1;24(4):430–8.
Tringali B. Health Promotion, Collaboration, and Outreach: Creating Space for Health Literacy at a Specialized, Academic Research Library. JLOE. 2021 Sep 13;1(2):14–21.
Goodsett M, Dougan K. Community Outreach Through LibGuides. In: Tyckoson DA, Dove JG, editors. Reimagining Reference in the 21st Century [Internet]. Purdue University Press; 2014 [cited 2022 Nov 30]. Available from: http://www.jstor.org/stable/10.2307/j.ctt6wq3n2.
Conigliaro RL, Peterson KD, Stratton TD. Lack of Diversity in Simulation Technology: An Educational Limitation? Sim Healthcare. 2020 Apr;15(2):112–4.
Pregnall AM, Churchwell AL, Ehrenfeld JM. A Call for LGBTQ Content in Graduate Medical Education Program Requirements. Academic Medicine. 2021 Jun;96(6):828–35.
Statistics Canada. The Daily — A statistical portrait of Canada's diverse LGBTQ2+ communities [Internet]. 2021 [cited 2022 Aug 26]. Available from: https://www150.statcan.gc.ca/n1/daily-quotidien/210615/dq210615a-eng.htm.
Williams Institute, UCLA School of Law. LGBT Data & Demographics [Internet]. 2019 [cited 2020 Aug 28]. Available from: https://williamsinstitute.law.ucla.edu/visualization/lgbt-stats/?topic=LGBT.
Office of Disease Prevention and Health Promotion. LGBT [Internet]. Healthy People 2030. [cited 2022 Nov 30]. Available from: https://health.gov/healthypeople/objectives-and-data/browse-objectives/lgbt.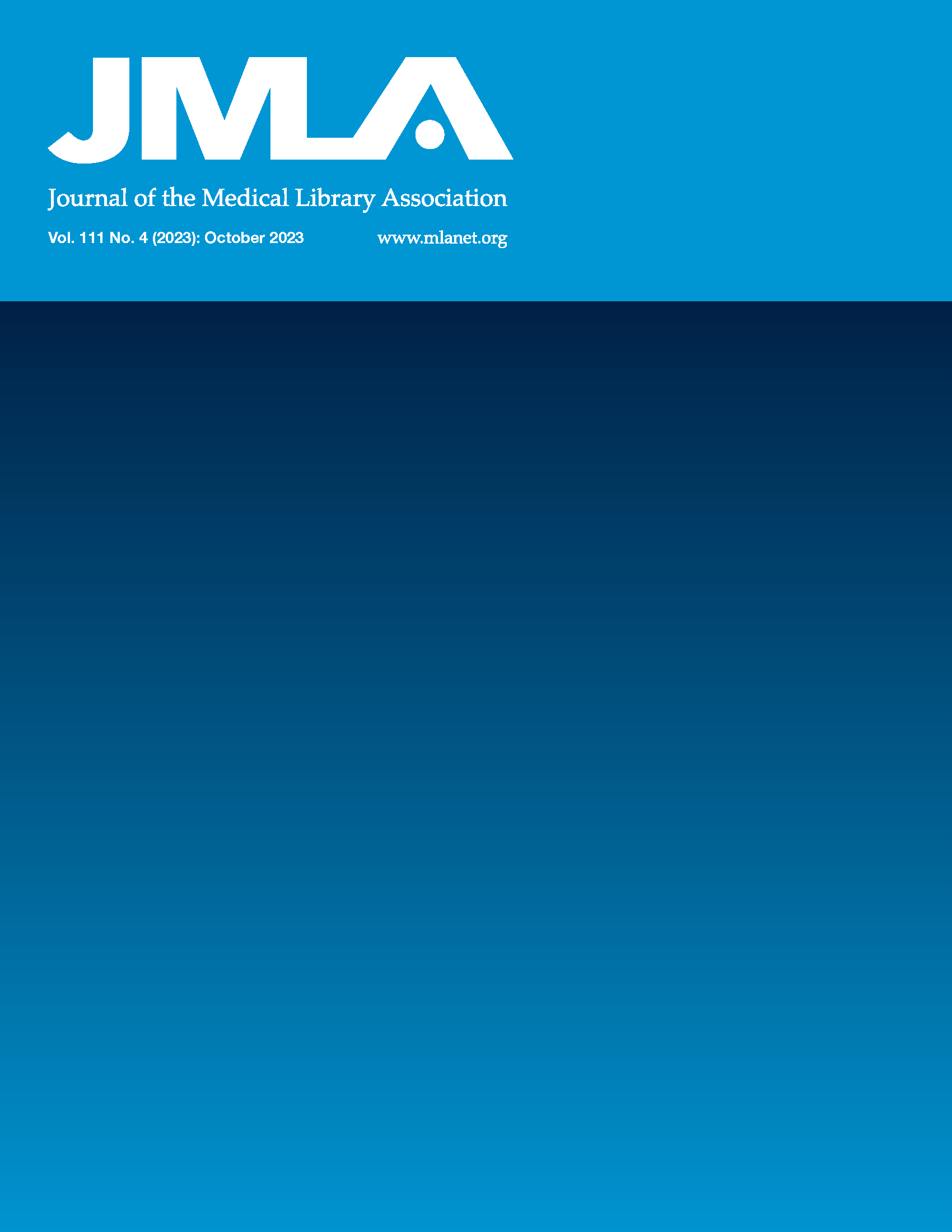 Downloads
Section
Original Investigation
License
Copyright (c) 2023 Gregg A. Stevens, Martin Morris, Robin M. N. Parker, Francisco J. Fajardo, Erica R. Brody, Katie McLean
This work is licensed under a Creative Commons Attribution 4.0 International License.